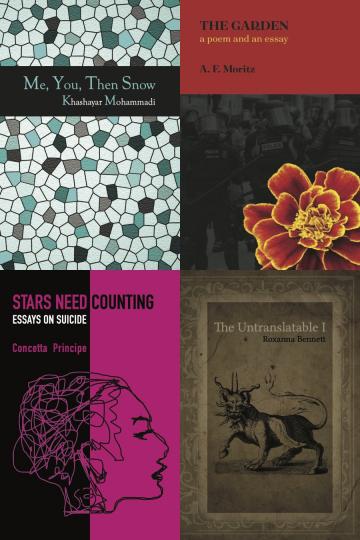 Gordon Hill Press is launching its spring titles in collaboration with Knife | Fork | Book Sunday, on April 25, 2021 at 3 PM EDT. Join us to hear readings from Roxanna Bennett's "The Untranslatable I", Khashayar Mohammadi's "Me, You, Then Snow", A. F. Moritz's "The Garden", and Concetta Principe's "Stars Need Counting". The authors will also be available for a Q&A.
The event is free, but you need to register on EventBrite – https://www.eventbrite.ca/.../gordon-hill-press-spring...
In "unmeaningable", her previous Trillium Poetry Awards winning book with Gordon Hill Press, Roxanna Bennett renovated the North American disability poetics canon via her queer fusion of invisible and visible disability identities. "The Untranslatable I" builds on Roxanna's acute sense of form and cripping of myth by establishing a more reflective, heartbreaking voice that asks, "Was I chosen? Is this a gift or a curse?" and provides answers not as prescribed path or cure, but as beautiful song.
"Me, You, Then Snow" by Khashayar Mohammadi is a collection of poetry woven from dreams, memories and deep-seeded longing, a collection of poetry that ranges from ambiguously addressed love-letters, to ekphrastic poems for arthouse cinema, to pieces written near midnight when the day's experiences rush back into view. Though working in diverse forms and styles, the poetry manifests as a profoundly unified desire to experience and communicate the world.
"The Garden" by A. F. Moritz is a passionate denunciation of injustice, especially as seen in the violent injustice directed to the African diaspora in North America. Comprised of a long poem, "The Garden in the Midst", and an in-depth essay, "The Poet's Garden," the book centers on the South Central Los Angeles "riot" of 1992 in response to the acquittal of police officers caught badly beating Rodney King in 1991. From this central point, the poem and essay reach out to encompass the May 2020 police murder of George Floyd, the 1968 assassination of Martin Luther King, and the long history of legalized criminal repression these two deaths belong to. Largely completed in 1992, Moritz returned to his manuscript in 2020 following the death of Mr. Floyd out of self-interrogation and grief. "The Garden" suggests that only the essence of poetry can prove antithetical antidote—if there can even be one—to this human crime and tragedy.
"Stars Need Counting" meditates on questions of suicide in the mode of A. Alvarez, when he says, in A Savage God, that there are no answers to these questions, because suicide is a "closed world" – so closed that it's not our place to judge or cast shame. These essays explore the quality of what is closed about this world, bring it close enough to scrape the shame off the act, and for both those who have passed and those who survive, offer peace.