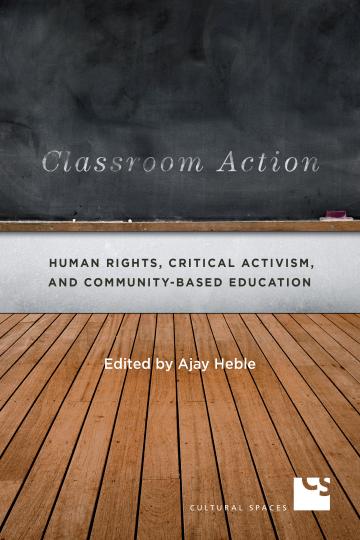 Sun, Nov 26 2017, 3:00 pm - 5:00 pm
Guelph author Ajay Heble launches Classroom Action: Human Rights, Critical Activism, and Community-Based Education on Sunday, November 26, 3:00 PM, at the ebar.
Classroom Action argues that for education to be a purposeful site for critical activism, creating structures in classrooms that encourage broader forms of community-based involvement. Ajay invited some of his students to contribute chapters to the book to reflect on the community-engaged interventions that have emerged from classrooms, and to discuss how such initiatives have shaped and energized their own current research and teaching practices. Several of the contributing authors will be on hand at the book launch to talk about their chapters.
Ajay Heble is the founding Director of the International Institute for Critical Studies in Improvisation (IICSI), and Professor of English in the School of English and Theatre Studies at the University of Guelph. His research has covered a full range of topics in the arts and humanities, and has resulted in thirteen books published or in press, numerous articles or chapters, and over a hundred graduate students and post-doctoral fellows trained and mentored. He is the founding Artistic Director of the award-winning Guelph Jazz Festival and Colloquium, and a founding co-editor of the peer-reviewed journal Critical Studies in Improvisation/Études critiques en improvisation (www.criticalimprov.com).