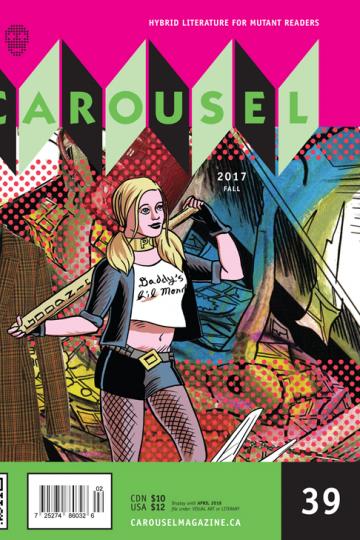 Thu, Nov 9 2017, 7:00 pm - 9:00 pm
Guelph literary magazine, CAROUSEL, is holding a launch party for issues 38 & 39 on Thursday, November 9, 7:00 PM, at Silence Sounds (46 Essex Street).
The evening will feature performances by Ally Fleming (reading), Aaron Tucker (reading), Robin Richardson (reading / projected slideshow by the Editor of the Minola Review), Mark Laliberte (reading / projected slideshow) and others. Additionally, there will be an open mic segment to the evening, where anyone who wishes to read can come up to the mic as well.
CAROUSEL 38 + 39 will be available for purchase during the event as a pair for only $10, which is 50% off the usual combined cover price.
Beverages will also be available for purchase, courtesy of Silence.
CAROUSEL is an exquisitely produced bi-annual hybrid literary + arts magazine focused on promoting a full range of Canadian talent within an increasingly borderless, contemporary context. The journal dedicates equal space to word & image; it offers an open environment emphasizing the creative investigation of art and literary forms.
CAROUSEL 39 features art, comics, fiction, interviews, poems and hybrid works by: Megan Arnold • Jessica Bromley Bartram • Lou Beckett • Meghan Bell • Jason Bradshaw • Cole Closser • Jonathan Dyck • Ally Fleming • Alessandro Galatola • John Gosslee • Amy Ireland • Drazen Kozjan • Jacqueline Lai • Mark Laliberte • Aaron Linton • Jody Miller • Erik Nebel • Ben O'Neil • Retchin Pump • Ethan Rilly • Sean Rogers • David Romanda • Alexander Rothman • Marigold Santos • Eric Schmaltz • Dash Shaw • Fiona Smyth • Aaron Tucker • Jon Vaughn • John Sibley Williams • Fan Wu