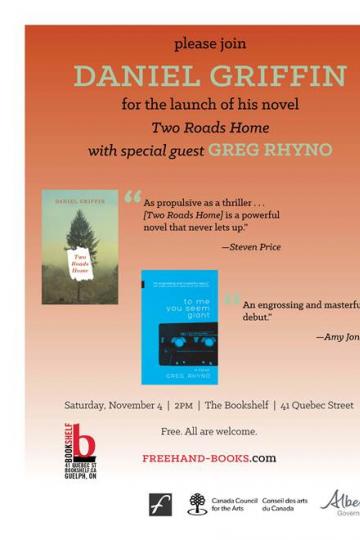 Sat, Nov 4 2017, 2:00 pm - 4:00 pm
Author Daniel Griffin discusses his new novel, an eco-thriller called Two Roads Home, on Saturday, November 4, 2:00 PM, at The Bookshelf. He'll be joined by a special guest, local author Greg Rhyno, author of To Me You Seem Giant.
www.facebook.com/events/1740035386301601
Two Roads Home tells the story of a group of young environmental activists who, growing frustrated with the lack of results from peaceful protest, turn to sabotage. But what happens when things get out of hand? ? It's a fast-paced story about the power of resistance, the fine line between activism and terrorism, and what happens when things go too far. (More information at www.freehand-books.com/books/two-roads-home).
Daniel Griffin grew up in Kingston, and has lived in Guatemala, the UK, France, New Zealand, Mexico, India, and the US. His short story collection Stopping for Strangers (Vehicule) was a finalist for the Danuta Gleed and ReLit Awards. He currently lives in Victoria.