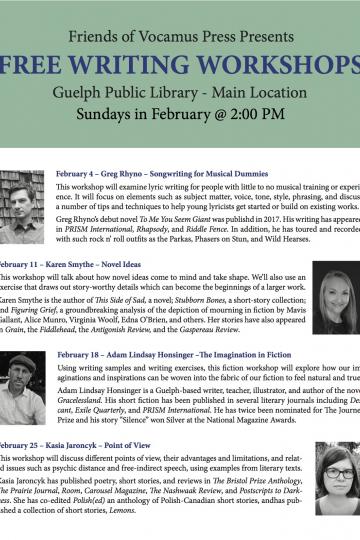 Sun, Feb 4 2018, 2:00 pm - 4:00 pm
Friends of Vocamus Press presents its annual Free February Writing Workshops at 2:00 PM on Sunday afternoons in February, at the main location of the Guelph Public Library.  Click on the workshop title to register.
February 4 – Greg Rhyno – Songwriting for Musical Dummies
This workshop will examine lyric writing for people with little to no musical training or experience. It will focus on elements such as subject matter, voice, tone, style, phrasing, and discuss a number of tips and techniques to help young lyricists get started or build on existing works. Participants are encouraged to bring in and develop their lyrics, but the workshop will offer opportunities to write new songs as well. No instruments required.
Greg Rhyno's debut novel To Me You Seem Giant will be available from NeWest Press in September 2017. His writing has appeared in PRISM International, Rhapsody, and is forthcoming in Riddle Fence. In addition, he has toured and recorded with such rock n' roll outfits as the Parkas, Phasers on Stun, and Wild Hearses. His music has been licensed to television and film, including shows like Scrubs, Greek, and Dawson's Creek. Currently, he is an MFA candidate at the University of Guelph. He lives with his family in Guelph, Ontario.
February 11 – Karen Smythe – Novel Ideas
"There are no new stories, only new ways of telling them," or so goes the old adage. Literature is an art form that explores and portrays our experience of life—from birth and childhood to love and loss, all the way through to our common end. So how do you come up with anything original to write about? In this workshop, we will talk about how novel ideas come to mind and take shape. We'll also use an exercise that draws out story-worthy details which can become the beginnings of a larger work. Bring a pen and notebook!
Karen Smythe is the author of a novel, This Side of Sad; a short-story collection, Stubborn Bones; and Figuring Grief, a groundbreaking analysis of the depiction of mourning in fiction by Mavis Gallant, Alice Munro, Virginia Woolf, Edna O'Brien, and others. Her stories have also appeared in Grain, the Fiddlehead, the Antigonish Review, and the Gaspereau Review.
February 18 – Adam Lindsay Honsinger –The Imagination in Fiction: Making the Fantastic Seem Real
You've got an imagination and a story to tell. Don't let one get in the way of the other. Using writing samples and a writing exercise or two, this fiction workshop will explore how our imaginations and our wildest inspirations can be woven into the fabric of our fiction to feel natural and true.
Adam Lindsay Honsinger is a Guelph-based writer, teacher, illustrator, and author of the novel Gracelessland. His short fiction has been published in several literary journals including Descant, Exile Quarterly, and PRISM International. He has twice been nominated for The Journey Prize and his story "Silence" won Silver at the National Magazine Awards. Adam completed an MFA in creative writing at the University of Guelph.
February 25 – Kasia Jaroncyk – Point of View
Point of view is the most intricate aspect of fiction – it defines the relationship between the writer, characters and the readers. Once you have an idea for a story and whom the story belongs to, you need to decide who tells the story, to whom, and in what form. In this workshop we will discuss different points of view, their advantages and limitations, and related issues such as psychic distance and free-indirect speech, using examples from literary texts.
Kasia Jaroncyk has published poetry, short stories, and reviews in The Bristol Prize Anthology, The Prairie Journal, Room, Carousel Magazine, The Nashwaak Review, and Postscripts to Darkness. Her work won first place in the Eden Mills Contest in 2010; second place in the GritLit Hamilton festival in 2015; and was longlisted for the CBC Radio Short Story contest in 2010. She has co-edited an anthology of Polish-Canadian short stories (Guernica Editions, forthcoming 2017), and has written a collection of short stories, Lemons (Mansfield Press 2017).