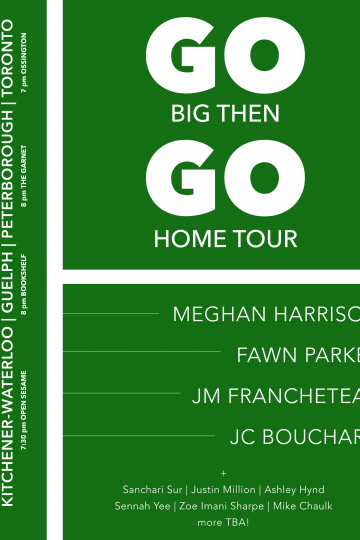 Sat, Apr 28 2018, 8:00 pm - 9:30 pm
The Go Big Then Go Home Poetry Tour Come to The Bookshelf on Saturday, April 28 at 8:00 PM, with Fawn Parker, JC Bouchard, Megan Harrison, and JM Francheteau. They'll be joined by local poets Mike Chaulk and Jeremy Luke Hill.
You can also come by 130 Dublin Street North at 6:00 PM that night to have some dinner, chat with the readers, and get yourself in that poetry mood.
Fawn Parker is the author of Looking Good and Having a Good Time (Metatron Press) and Weak Spot (Anstruther Press). Her poems and fiction appear in Cosmonauts Avenue, Peach and more. Read her work here – https://www.peachmgzn.com/fawn-parker
JC Bouchard is the author of the forthcoming book Let This be the End of Me (Hybrid Heaven Press).  His poems appear in Prism, Arc, BookThug's BafterC and more. Read his work here – http://puritan-magazine.com/might-have-been-jc-bouchard/
Meghan Harrison is author of a forthcoming chapbook with Rahilla's Ghost press. Her poems appear in Queen Mob's Teahouse, The Mackinac, and more. Read her work here – http://www.themackinacmagazine.com/meghan-harrison.html
JM Francheteau is author of the chapbook Kids (Hurtin' Crue Press). His work appears in Grain, Arc, CV2 and others. Read his work here – http://puritan-magazine.com/snowflake-jm-francheteau