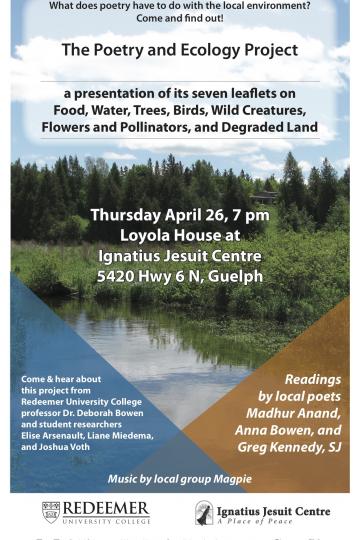 Thu, Apr 26 2018, 7:00 pm - 9:00 pm
The Poetry and Ecology Project presents an evening of conversation, readings, and music on Thursday, April 26, 7:00 PM, at the Loyola House, Ignatius Jesuit Centre (5420 Highway 6 North, Guelph).
The program includes a presentation of the project's seven leaflets on Food, Water, Trees, Birds, Wild Creatures, Flowers and Pollinators, and Degraded Land, with Redeemer University College professor Dr. Deborah Bowen and student researchers Elise Arsenault, Liane Miedema, and Joshua Voth.
It also features readings by local poets Madhur Anand, Anna Bowen, and Greg Kennedy, SJ, along with music by Magpie.