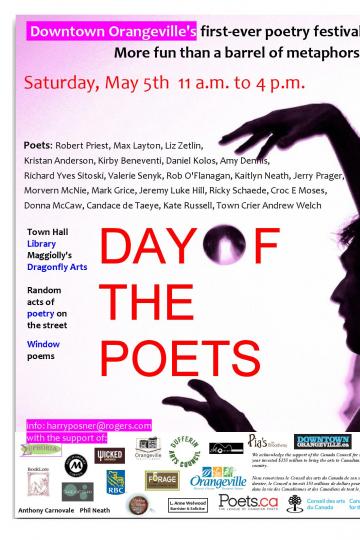 Sat, May 5 2018, 11:00 am - 4:00 pm
Come celebrate poetry at Day of the Poets, Orangeville's first ever poetry festival, on Saturday, May 5 from 11:00 AM to 4:00 PM.
The inaugural event will feature more than twenty local and regional poets, including several from the Vocamus Writers Community – Candace de Taeye, Jeremy Luke Hill, Donna Mccaw, Rob O'Flanagan, Jerry Prager, and Valerie Senyk,.
Readings will take place at four different venues in the downtown area including Town Hall, the Mill Street Library, Maggiolly Art Supplies, and Dragonfly Arts on Broadway.
Poets will also engage in 'random acts of poetry' along Broadway, and written poetry will be displayed in the windows of downtown businesses.
This legacy project was created by Dufferin County Poet Laureate Harry Posner to highlight the special literary art form of poetry and to bring some excitement and beautiful words to the streets of Orangeville.  For more information, email harryposner@rogers.com.