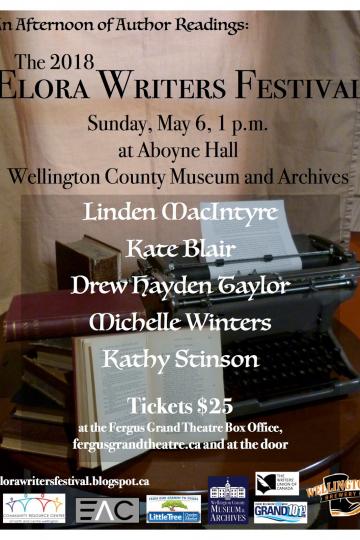 Sun, May 6 2018, 1:00 pm - 4:00 pm
The Elora Writers Festival is coming up on Sunday, May 6, 1:00 PM, at Aboyne Hall, Wellington County Museum & Archives, featuring readings by Kathy Stinson, Drew Hayden Taylor, Kate Blair, Linden MacIntyre, and Michelle Winters.
Tickets are $25.00 and include the readings, a reception with wine and appetizers, and a Q&A with the authors.
Phone 519-831-4391 or email: elorawritersfestival@gmail.com.
Kathy Stinson writes books for kids of all ages. One of her standout picture books is The Man With the Violin, which tells the story of classical violinist Joshua Bell's subway experiment, in which he played his violin at a busy Washington, D.C., subway station and the crowds mostly passed him by – except for the children, who wanted to stop and listen.
Drew Hayden Taylor used his background growing up in the Curve Lake First Nation to become an award-winning playwright, author, columnist, film maker and lecturer. His most recent collection, Take Us To Your Chief, is (in his words) "a collection of archetypal science-fiction stories reinvented with a contemporary First Nations outlook". Yup. And that's just the tip of the iceberg…
Kate Blair writes for Young Adult readers, and calls herself a "speculative fiction geek, ex-pat, ex-clown and ex-museum curator." She grew up on a tiny island in the UK and moved to Canada in 2008. Her latest novel is Tangled Planet.
Linden MacIntyre is a past Giller-prize winner, a veteran broadcast journalist with a pile of Gemini awards, and a returnee to our festival, this time with his latest novel, The Only Café, in which he draws on his journalistic background to tell the story of a man trying to find out what led to the death of his father.
Michelle Winters is a multi-talented artist – a painter as well as a writer – and her novel, I Am a Truck, was on the short list for the 2017 Giller Prize. Originally from Saint John, New Brunswick, she now lives in Toronto, where she works as a translator.