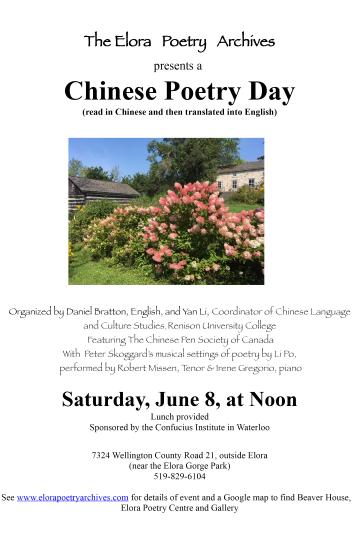 Sat, Jun 8 2019, 12:00 pm - 4:00 pm
The Elora Poetry Centre is holding a reading of Chinese poetry at Noon on Saturday, June 8, at 7324 Wellington County Road 21, outside Elora.
The event includes readings both in Chinese and in translation, featuring The Chinese Pen Society of Canada, with Peter Skoggard's musical settings of poetry by Li Po,
 performed by Robert Missen,Tenor and Irene Gregorio, piano. Lunch will be provided.
The event is organized by Daniel Bratton, English, and Yan Li, Coordinator of Chinese Language and Culture Studies, Renison University College. It is sponsored by the Confucius Institute in Waterloo.