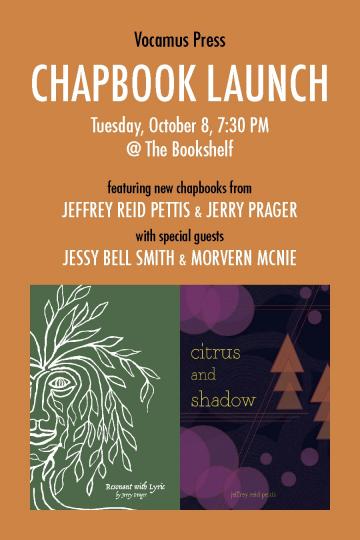 Tue, Oct 8 2019, 7:30 pm - 8:30 pm
Guelph poets Jeffrey Reid Pettis and Jerry Prager launch their new chapbooks from Vocamus Press on Tuesday, October 8, 7:30 PM at The Bookshelf.
Jeffrey will read from "Citrus and Shadow", a collection of lyric poetry, and Jerry will read from "Resonant with Lyric", a long poem in the tradition of Allen Ginsberg's "Howl". They'll be joined by special guests, musician Jessy Bell Smith, and poet Morvern McNie.
Guests are also invited to go for pints with the performers.
Admission is free.
JEFFREY REID PETTIS lives and works in Guelph as an educator. He listens to loud music loudly and his academic interest in literary depictions of paranoia is a fine line of yarn away from a conspiracy theory wall. He mostly sits around and reads, sometimes writes poems, and even more sometimes publishes them.
CITRUS AND SHADOW is a chapbook of lyric poetry, thoughtful and measured, deft and curious. It is a poetry that explores the world, not by dissecting it or pulling it to pieces, but by holding it closely and paying it full attention. Its challenge to the reader is that we also come to hold the world more closely, that we also pay it our full attention, so that we also can come to know it better.
JERRY PRAGER is the author of three volumes on the Calabrian mafia of Guelph and several books of poetry. He is currently working on a series on fugitive slaves and how they came to Wellington County.
RESONANT WITH LYRIC is a long poem in the tradition of Allen Ginsberg's Howl. It's about coming of age, about identity and place in the world, about the landscape and nation of Canada, about relationship to others and to posterity, about family history and past trauma, about concerns for the present and the future – all of these things and more. It is, in the end, about the struggle to be human in a particular time and place.
JESSY BELL SMITH is a Guelph-based musician with a tremendous voice. She has released an album of her own songs, entitled The Town, and she has worked for much of her career with Canadian band, The Skydiggers.
MORVERN MCNIE writes poetry and short fiction. She has performed at Hillside Festival and the Eden Mills Fringe. Her work appears on two Guelph compilation CD's called Work Songs and 60 Second Songs.