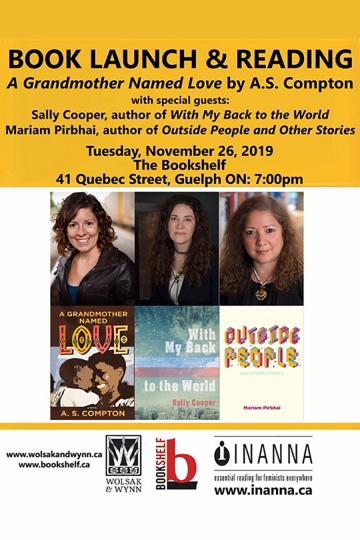 Tue, Nov 26 2019, 7:00 pm - 8:30 pm
A.S. Compton, launches A Grandmother Named Love on Tuesday November 26, 7:00 PM to 8:30 PM, at The Bookshelf, with special guest writers Sally Cooper, author of With My Back to the World and Mariam Pirbhai, author of Outside People and Other Stories.
Admission is free.
A. S. Compton grew up on her family's inter-generational farm in Ontario and attended the University of Western Ontario, receiving her BA in English and Literature in 2012. Before beginning university, she lived in Botswana, Africa for her gap year working in HIV awareness and outreach. She is active in fair trade, social justice and empowering youth initiatives. She loves reading and cycling, and still spends much of her spare time on the family farm with her two children. A Grandmother Named Love isher first novel.
Sally Cooper is the author of two acclaimed novels, Love Object and Tell Everything, and the linked story collection Smells Like Heaven. Her writing has appeared in CNQ: Canadian Notes & Queries; Electric Literature; Event; The Feathertale Review; Globe & Mail; Grain; The Millions and The New Quarterly. In 2017, her writing was longlisted for the Edna Staebler Personal Essay Contest, the Short Works Prize and the Vancouver Women in Film and Television From Our Dark Side Contest. Sally is a senior editor of Hamilton Review of Books. She lives in Hamilton, Ontario.
Mariam Pirbhai is the author of a debut short story collection titled Outside People and Other Stories, which won the 2018 IPPY Gold Medal for Multicultural Fiction, and was ranked among CBC's top ten recommended "must read" lists of 2017. Her short fiction has appeared in numerous anthologies and journals, including Her Mother's Ashes: Stories by South Asian Women in Canada and the United States Vol III, Pakistani Creative Writing in English, and the Dalhousie Review. She is Professor of English in the Department of English and Film Studies at Wilfrid Laurier University, where she specializes in postcolonial and diaspora studies. She was born in Pakistan and lives in Waterloo.