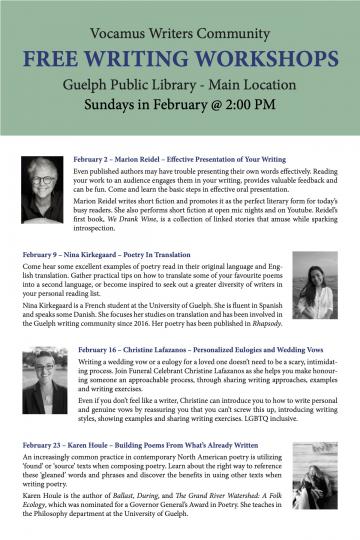 Sun, Feb 16 2020, 2:00 pm - 4:00 pm
Guelph funeral celebrant, Christine Lafazanos, leads a free workshop on Personalized Eulogies and Wedding Vows, Sunday February 19, 2:00 PM, at the downtown location of the Guelph Public Library, as part of Vocamus Writers Community's Free February Writing Workshops each Sunday in February.
Writing a wedding vow or a eulogy for a loved one doesn't need to be a scary, intimidating process. Join Funeral Celebrant Christine Lafazanos as she helps you make honouring someone an approachable process, through sharing writing approaches, examples and writing exercises.
Even if you don't feel like a writer, Christine can introduce you to how to write personal and genuine vows by reassuring you that you can't screw this up, introducing writing styles, showing examples and sharing writing exercises. LGBTQ inclusive.
Admission is free. You can register at this link – https://guelphpl.libnet.info/event/3560457