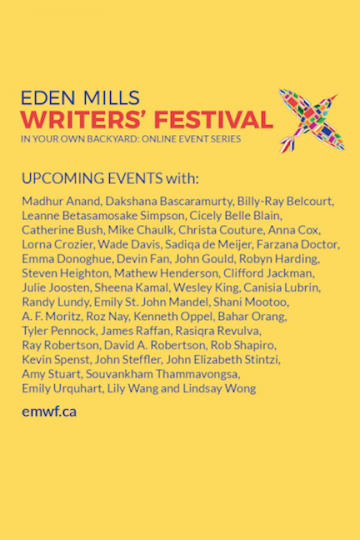 Thu, Sep 10 2020, 8:00 pm - 9:00 pm
Vocamus Writers Community is once again presenting a session of Guelph-area authors at the Eden Mills Writers' Festival, this year reimagined as the "In Your Own Backyard" online event series.
On Thursday September 10, at 8:00 PM, join three Guelph-area authors as they read and talk about their very different books. Clifford Jackman, a Governor General Award shortlisted author, will read from The Braver Thing, a rollicking pirate story that also explores questions of good governance that are perhaps more relevant today than ever. Mike Chaulk reads from Night Lunch, a collection of poetry about a young deckhand on a fishing boat in Labrador. And Anna Cox reads from I Keep My Worries in My Teeth, a novel about three women and a pencil factory that is equal parts humour and heartbreak. The authors will also spend some time talking about their writing with session host Jeremy Luke Hill.
The session is absolutely free, but you'll need to register. Details are here – https://edenmillswritersfestival.ca/2020-online-series/.