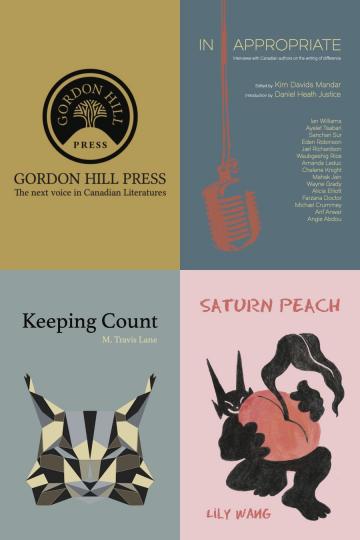 Sat, Oct 31 2020, 3:00 pm - 5:00 pm
Guelph publisher, Gordon Hill Press, is launching it's Fall 2020 poetry titles online, on Saturday, October 31, 3:00 PM.
The launch will include readings from M. Travis Lane's "Keeping Count" and Lily Wang's "Saturn Peach", as well as guest Khashayar Mohammadi from his forthcoming collection, "Me, You, Then Snow".
Register at EventBrite  here – https://www.eventbrite.ca/e/gordon-hill-press-fall-2020-season-launch-tickets-125342844823
"Keeping Count", M. Travis Lane's 18th collection of poetry, begins in the poet's favourite terrain: short, condensed lyric that focuses on the natural world. "But pull a thread: music turns" Lane writes, and the book progressively defamiliarizes the reader, moving from ecopoetry to a longer poetry of interiority in the second section, concluding with a final section that focuses on issues of mortality. As George Elliott Clarke has written so aptly, "If you have not read Lane before, prepare to travel: Like T.S. Eliot, she wants you to have a transporting experience in your imagination. If you have read Lane before, prepare for fresh astonishment. She is Homeric breadth and Sapphic brevity."
In "Saturn Peach", Lily Wang establishes a distinctive voice that is part heartbreak and part wise witness chronicling the strangeness of a technologized world. When asked to describe her book, Wang answered in her quintessential way, "There are things I never want to know but always know. Every day I live with them. Every day I live. I am like a young fruit. Like a peach, common, not the popular kind but oblate, saturn. I live and inside me this pale fruit, yellow and white. I take bites out of myself and share them with you. Maybe you taste like me. Maybe you hold this fruit and become a tree." If ever there were a book that disarmingly – and seemingly effortlessly – encouraged its reader to become a metaphor, then "Saturn Peach" is it.
Khashayar Mohammadi's "Me, You, Then Snow" is a collection of poetry woven from dreams, memories and deep-seeded longing, a collection of poetry that ranges from ambiguously addressed love-letters, to ekphrastic poems for arthouse cinema, to pieces written near midnight when the day's experiences rush back into view. Though working in diverse forms and styles, the poetry manifests as a profoundly unified desire to experience and communicate the world.