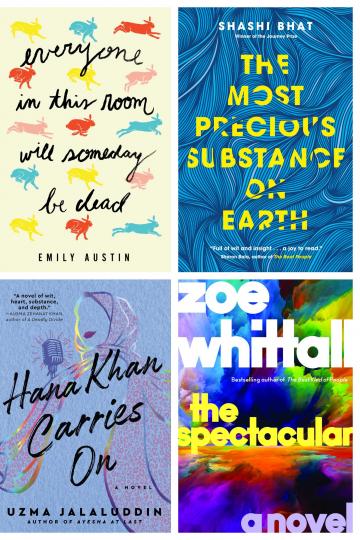 Thu, Aug 26 2021, 8:00 pm - 10:00 pm
The Eden Mills Writers' Festival presents an online panel on Thursday August 26, 8:00 PM - 9:00 PM, with Emily Austin (Everyone in This Room Will Someday Be Dead), Shashi Bhat (The Most Precious Substance on Earth), and Uzma Jalaluddin (Hana Khan Carries On), hosted by Zoe Whittall (The Spectacular).
Register here – https://edenmillswritersfestival.ca/emwf-panel-women-interrupted/.
Life can be a puzzle made up of pieces that don't fit the way we'd hoped. Family, sexuality, relationships, work, desire, hope, healing, time and circumstance… things can get, well, a little complicated. This panel will explore the world through the eyes of complex female characters who come alive in the pages of four vibrant new works of fiction. Join Zoe Whittall in conversation with Emily Austin, Shashi Bhat and Uzma Jalaluddin as they introduce you to fictional women you won't soon forget.
This event includes closed captioning.