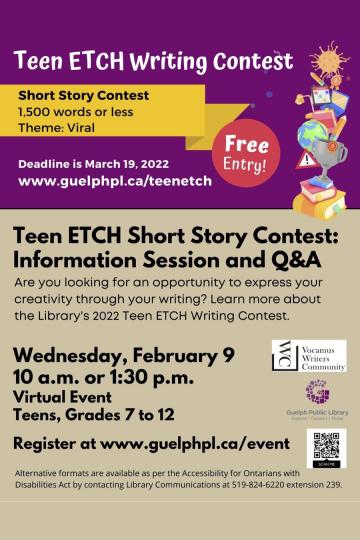 Mon, Feb 28 2022, 6:00 pm - 7:30 pm
Interested in publishing a short story in the 2022 Teen ETCH Anthology? Register for this online workshop on Monday, February 28
6:00 - 7:30 PM.
This writing workshop will consist of completing writing exercises followed by sharing and positive commentary. The workshop leader, Nikki Everts, will help you identify what works in your writing and what elements in your writing are enjoyable to read. Through identifying what you do well, this workshop will help you develop your writing skills!
Nikki has been part of the Vocamus writing community since it started and has served as a mentor for an ETCH teen writer a few years back. She's published a novel, a poetry chapbook, and several short stories. As well, Nikki developed and facilitated creative writing workshops under the auspices of her small writing services business, Scripted Images.
Register here – https://guelphpl.libnet.info/event/6131615.