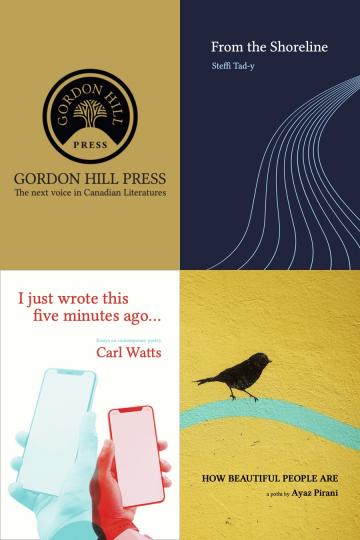 Sun, May 8 2022, 2:00 pm - 4:00 pm
Join Guelph publisher Gordon Hill Press at The Western Hotel on Sunday May 8 at 2:00 PM for a covid catch-up party and launch!
The event features readings by Ayaz Pirani and Carl Watts from their Spring 2022 Season, plus more great Gordon Hill Press authors from past seasons who never got an in-person launch due to covid, including Kevin Heslop, Khashayar Mohommadi, and Aaron Schneider.
You can find our more and let them know you;re coming on the Facebook event page – https://www.facebook.com/events/742181250247272.
Here's a little about the readers. Stay tuned as they add more. –
Ayaz Pirani's How Beautiful People Are – A trans-national, inter-generational poetry of post-colonial love and loss animated by the syncretizing figure of Kabir and drawn from the extraordinary diwan of ginan and granth literature.
Carl Watts' I Just Wrote This Five Minutes Ago – A book of poetry criticism that shows how contemporary poetry creates meaning and value, how poetry might get real work out of us, in the process locating and grounding us among real people and a real practice.
Kevin Heslop's the correct fury of your why is a mountain – Poems that are by turns experiment, lyric, and incantation, and that Jim Johnstone describes as "one of the most promising poetic projects to come out of Canada in recent years."
Khashayar Mohammadi's Me, You, Then Snow – The debut full-length collection from Iranian-born poet, Khashayar Mohammadi, playing with ideas of national, cultural, and queer identities through a diverse set of forms and approaches.
Aaron Schneider's What We Think We Know – A debut collection of short fiction that tests, expands, and sometimes explodes the limits of the short story, and that Jean Marc Ah-Sen rates as "one of the most daring books to come out in recent memory.