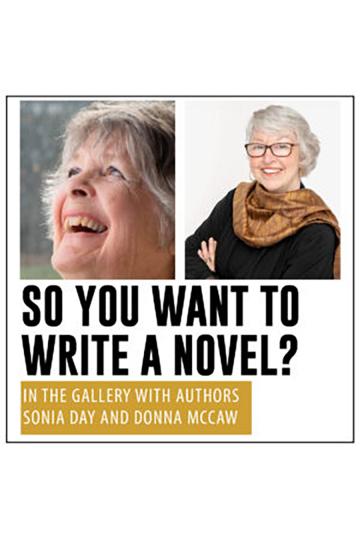 Thu, Sep 29 2022, 7:00 pm - 9:00 pm
Join authors Sonia Day and Donna McCaw in the Elora Centre for the Arts for an interactive discussion about their experiences writing, publishing and marketing a novel. Bring your ideas, your questions, your sense of humour and your curiosity!
Check out the Facebook event page here – https://www.facebook.com/events/458656715893307.
Register here – https://eloracentreforthearts.ca/event/so-you-want-to-write-a-novel-in-the-gallery-with-authors-sonia-day-and-donna-mccaw/.
Donna McCaw has presented the popular Remembering Leonard shows and Wordfest at the ECFTA, offered storytelling workshops in many venues, written six books, and toured a number of shows from Women's Voices, to Barn Yarns and The Spell of Crazy Love. The latest is 2022's Across the Great Divide.
Sonia Day is a former Toronto Star gardening columnist and the author of nine books, including two novels. Her first novel, Deer Eyes, won a Silver Medal in the Independent Book Publisher Awards in New York. Her second,The Mexico Lunch Party, was published this past spring. Also a painter, she lives in Fergus.