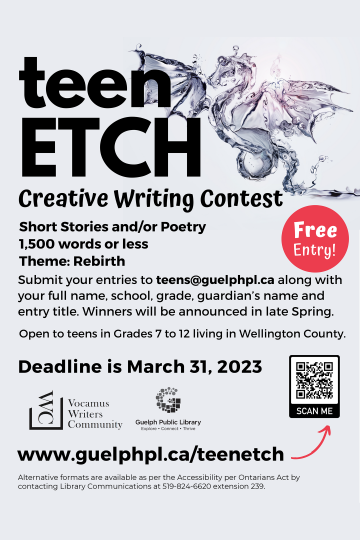 Fri, Feb 24 2023, 10:00 am - 11:00 am
The Guelph Public Library and Vocamus Writers Community are partnering once again to offer teens in grades 7 through 12, living in Wellington County, the chance to be published in the Library's 2023 Teen ETCH Anthology this June!
Interested participants can enter the Library's 2023 Teen ETCH Creative Writing contest by submitting a short story and/or poetry piece in 1,500 words or less on the theme of "Rebirth."
There is no entry fee required but all submissions must be received by email only to teens@guelphpl.ca by 5 p.m. on Friday, March 31, 2023.
You can check out all the details here – https://www.guelphpl.ca/en/kids-and-teens/teen-etch-.aspx.