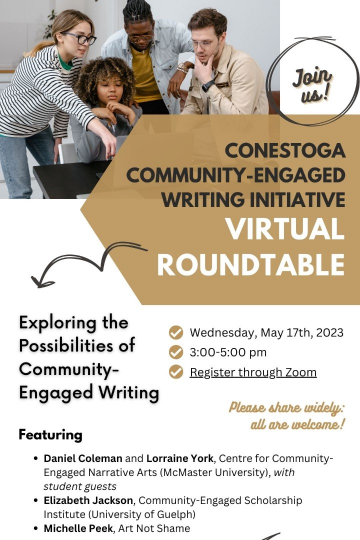 Wed, May 17 2023, 3:00 pm - 5:00 pm
The Conestoga Community-Engaged Writing Initiative aims to foster relationships between Conestoga College and the greater community through collaborative student writing projects that focus on equity, access, and empathy. We are inviting members of like-minded community organizations to attend an informal roundtable discussion on the potential for writing, narrative arts, and/or literacy to contribute to positive social change, on May 17, 3:00 PM.
Our goal is to develop community-engaged writing projects that contribute ethical solutions to community problems through promoting writing and literacy as tools for public awareness, expression, and dialogue. Community-engaged writing projects can include community-campus collaboration, public arts initiatives, and other forms of civic engagement.
Register here – https://conestogac.zoom.us/meeting/register/tJEvduytqjsrG9dbPUYU_VLXTq8bXhKU4IG2