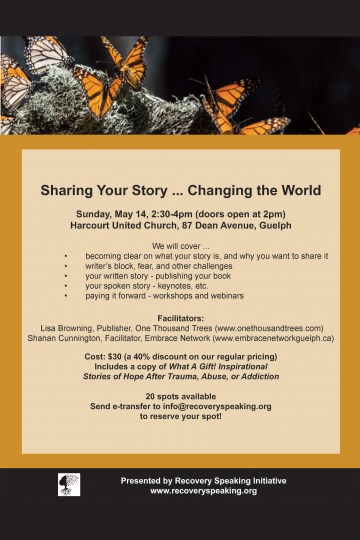 Sun, May 14 2023, 2:30 pm - 4:00 pm
Guelph publisher One Thousand Trees presents "Sharing Your Story... Changing Your World" as part of its Sexual Assault Awareness Week activities on Sunday May 14, 2:30 PM to 4:00 PM, at Harcourt United Church.
This writing workshop will be facilitated by Lisa Browning, Publisher at One Thousand Trees, and Shanon Cunningham, Facilitator at Embrace Network. It will lead participants in the process of writing and sharing their stories.
Cost is $30 and includes a copy of What a Gift! Inspirational Stories of Hope After Trauma, Abuse, or Addiction.
There are 20 spots available. Email info@recoveryspeaking.org to register.