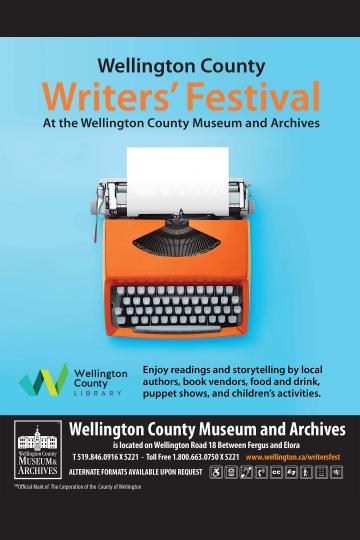 Sat, Jun 10 2023, 11:00 am - 4:00 pm
The Wellington County Writers' Festival is coming up on June 10, 11:00 AM to 4:00 PM, at the Wellington County Museum and Archives, and there's lots of Vocamus Writers Community representation (marked in italics).
The keynote speaker this year will be Robin Lefler, and the MC will be Rio Youers.
11:00 – 11:45 am              Puppets Elora
11:45 – 12:15 pm              Keynote Speaker : Robin Lefler
12:15 – 1:00 pm                Children's Lit: Phil Bean, Vanessa Ireson, Marilyn Helmer , Lauren Dawn Davidson
1:00 – 1:30 pm                  Poetry: Melinda Burns, Jeremy Luke Hill, Samantha Blair White , James Nowack
1:30 – 2:15 pm                  Mystery: Liz Lindsay, Pam Balance, Donna Warner, Gloria Ferris
2:15 – 3:00 pm                  Fantasy and Sci-Fi: Sharon Sasaki, Marian Thorpe, Marilyn Kleiber, Tristan Dineen
3:00 – 3:45 pm                  Historical: Carol Newal, Marion Roes, Carol Devine, Jan Feduck
There will also be all kinds of authors and publishers selling books, food by Fergie's, Schmecken BBQ, and Mapleton's Organic Dairy, performances by Puppets Elora, Bob MacLean, and Brad Halls, and workshops with Our Storied Lives, Willowcreek Typewriters, and Susan Dunlop.
For the full list of participants and vendors, click here – https://www.wellington.ca/en/discover/wellington-county-writers-festival.aspx.