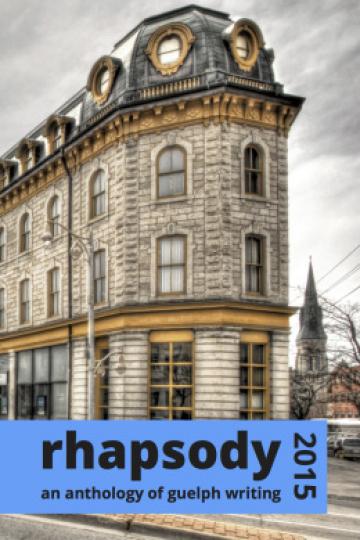 The Rhapsody Anthology  is the annual collection of Guelph poetry and very short prose that Friends of Vocamus Press publishes to increase public awareness of Guelph authors.
The 2015 edition of the anthology includes a diverse group of local writers from established authors to emerging talents on a wide variety of subjects, with cover art generously donated by Randy Hobson. They come together to reveal a valuable part of literary Guelph in the year 2014 / 2015.
Rhapsody 2015 will be launched at Book Bash 2015, a celebration of Guelph writing that will be held on September 27, 2015 from 1:00 PM to 4:00 PM at Red Papaya. Join us there to party with more than twenty Guelph authors and to get your very own copy of the collection.
This year's contributors include:
Laura Furster
Sheila Koop
Nicholas Ruddock
Burl Levine
Valerie Senyk
James Nowak
Jayelle Lindsay
Bieke Stengos
Darcy Hiltz
Sean Mccabe
Andrea Perry
Jeremy Luke Hill
Michelle McMillan
David McConnell
Nick Dinka
Cid Brunet
Matt Payne
Paul Hoy
Donna McCaw
Rob O'Flanagan
Anna Bowen
Heather Embree
Eoin O'Shea
Neal Hammond
Marianne Micros.