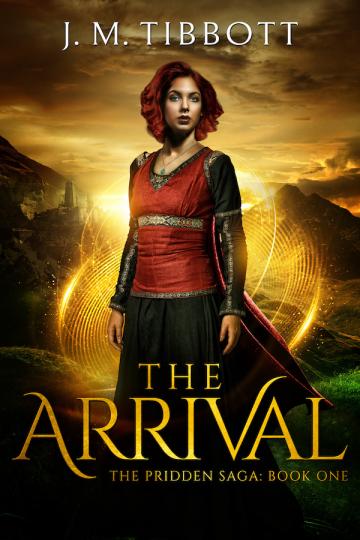 Title
The Arrival: The Pridden Saga: Book One
A computer whiz trapped in a tech-free world. Can she save an enchanting new world from a savage civil war?
Video game designer Kat Karim has never been much of a team player. So when her attitude causes friction at the office, her boss sends her on a forced vacation with instructions to think hard about her future. But while exploring ancient ruins in the Virgin Islands, she is thrust into a vortex which transports her to a spellbinding realm.
Desperate to return home, Kat strikes a bargain with the lord of Kaylin to help uncover troublemakers in exchange for a way back to her world. But with enemies lurking around every corner, she must defend against a villain with sinister plans for the power she doesn't know she possesses…
Can Kat survive in a land hurtling towards destruction?
The Arrival is the thrilling first book in The Pridden Saga epic fantasy series. If you like unstoppable female protagonists, seductive companions, and action-packed quests, then you'll love J. M. Tibbott's extraordinary journey.
Reviews
"THE ARRIVAL draws you into Kat's adventures and hurls you along through them at her side, in a tale that races along, full of color and verve. What happens to someone from our world plunged into a new and fantastic setting is something many tales have explored before this one, but THE ARRIVAL is interesting, pure fun, and left me impatient for the next book in the Pridden Saga!" — Ed Greenwood - Author, Teacher, Mentor.
 "Kat is an interesting heroine - sufficiently realistic to be annoying at times, but she draws you into her world, and you want her to develop her confidence and to win through. The characters around her bring out both her best and worst, and the occasional humour lightens the tricky situation that Kat has found herself in. Waiting with 'baited breath' for the next instalment" — RL --  
"This epic tale transports the reader to a land of fantasy and dreams, where powerful characters and imaginative creatures follow a twisted, action filled plot that races you to a gallant ending, leaving you perched and eager to continue the journey in Book two." — BH  --
"Move over George R.R. Martin, J.R.R. Tolkien and J.K. Rowling. Another saga is on its way through the prolific pen of J. M. Tibbott. When game designer Kat Karim falls into a strange new world, she is confronted by ferocious beasts, fantastical realms and treacherous characters plotting against her. Who is her friend and who is her enemy? And how will she get back to her own world? Don't miss The Arrival: Book One of the Pridden Saga." — G. N. -- 
4.0 out of 5 stars A good first book in the Pridden Saga
Reviewed in the United States on March 3, 2018
A good first book in the Pridden Saga! Kat Karim is a fiery young woman who has a lot to learn about the art of co-operation. She is cast into an unknown world to help solve the mystery of discord among the people there in exchange for the hope of being able to return to her own world. Darker forces, however, have other plans. But, with the help of patient and courageous allies, Kat starts to see things from a different perspective and embarks on her mission with resolve. Wonderful characters and a backdrop of multicultural nations make this introduction the the world of Pridden a truly enjoyable read. Looking forward to book two!
4.0 out of 5 stars Like Living a Video Game Quest
Reviewed in the United States on February 25, 2018
Kat is a confident, no-nonsense video game programmer who is mysteriously transported into a realm reminiscent of the games she loves. Her modern lack of manners offend the pious natives, and members of a visiting tribe cause her to feel erotically overwhelmed. Kat faces treachery and physical attack, discovers allies, satisfies her lust and prepares to embark on a quest that she hopes will result in her return to her home. The world is intricately described, the characters are engaging and this book leaves the reader wanting more.
5.0 out of 5 stars Kat embodies strong women
Reviewed in Canada on May 13, 2020
Kat's adventure in a land she needs to learn anew shows her what she needs to learn before she comes home. The characters and action are so enthralling I have to wait to read the next book before I can be assured there is another addition to the series! Thank you J M!