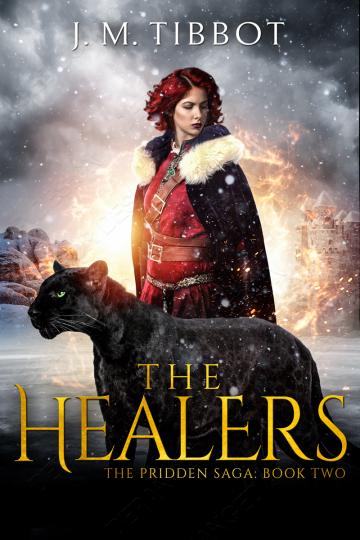 Title
The Healers: The Pridden Saga: Book Two
Plunge into the next chapter of Kat's journey as she wends her way among the spiritual healers of Shendea, but encounters heart-stopping challenges from a ferocious cathnog. Attacked by unknown and violent strangers, our video game designer must fulfill her promise to Eduardo of Kaylin to help Pridden avoid a devastating war, but unfortunately without clear or specific instructions. In this second fantasy edition of the enthralling Pridden Saga, she is escorted by her mysterious guide, Mouse, and the glorious big cat, Shade. Without real knowledge of these people, and hindered by her tendency to blunder when faced by peculiar customs, she is astonished by a Thieves' Guild who do not steal, a Magicians' Guild who demonstrate no magic, and the wiles of the alluring Rifellans. Will she survive these wily assassins?  How will she keep her word to help Lord Rhognor of Shendea, and still return safely to her own world?
CornishFan
5.0 out of 5 stars A great sequel to The Arrival
Reviewed in the United Kingdom on June 24, 2019
An enjoyable fantasy adventure with a realistic heroine, Kat. She manages to cope in a strange world, but is obviously not perfect - but a fun person who draws you in. The world she has arrived in is both magical and yet seems very real, and the creatures make it a fascinating place. I particularly love Wink, a very creative and cute way for Kat to communicate over distances. Kat could be quite frustrating in the first book, but she is learning fast and finally is developing more empathy with others. She may want to get home, but I want her to stay longer in this fantasy world as I want to know what happens next. Hurry up JM Tibbott and get us the next book!
Other Review
"THE HEALERS continues the Pridden Saga at a breakneck pace, as Kat learns more of the world she's found herself in, usually the hard way. Over her shoulder, the reader meets many intriguing characters as Kat all too often puts a foot wrong in very realistic, humorous, and often perilous ways. A worthy sequel to THE ARRIVAL, as mysteries deepen and we see more and more depths of the fascinating world of Pridden. I eagerly await the next book of Kat's adventures!" -- Ed Greenwood, Author and Award Winning Fantasy Game Designer.
"As you turn the pages faster and faster, J. M. Tibbott draws you deeper into the Pridden Saga.  Feisty and smart, Kat confronts the many challenges of her new world with a strong will and a sharp mind. I didn't want her journey to end." -- Terry Fallis, two-time winner of the Stephen Leacock Medal for Humour.     Kat embodies the full woman
Reviewed in Canada on May 13, 2020
As an adventurer Kat is learning all aspects of woman in this new world. She is so feisty I love her character even as she struggles to understand all the unknown in and around her. Like The Arrival I could not put this down and want the saga to continue!
-- Vanessa Cheeseman
An Enjoyable Read
Reviewed in Canada on August 29, 2019
An enjoyable second book in the Pridden Saga as we continue to follow Kat and Mouse on their quest -- Sonja11