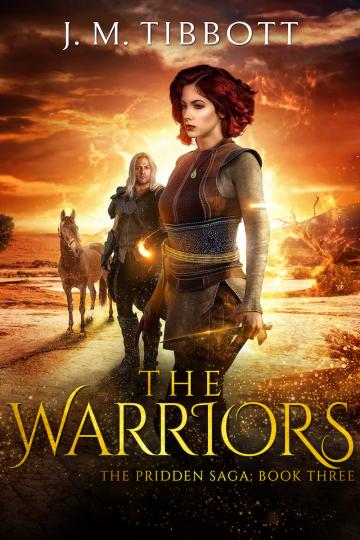 Title
The Warriors: The Pridden Saga: Book Three
The exciting fantasy continues as Kat, with only her guide Mouse and her pyrock, Wink, enters Rifella. In this land, she is often mistaken for a red-headed, royal-born Rifellan, with all the benefits of these powerful warriors. She encounters strange new creatures, some violent, and some delightful. The inhabitants she encounters are strong, fine-looking men and women, and who are surprisingly welcoming. Rifella is a harsh land, filled with dangerous creatures, and often grim terrain, but, she is nevertheless, entranced by the beauty she encounters. She is drawn to Liandock, the intensely attractive Metal-Master when he walks into her life again. Can Kat help Lord Murwenna, Rifella's ruler, to discover the challenges to her land, and gain additional ways to return to her own world? If you like unstoppable female protagonists, seductive companions, and action-packed quests, then you'll love volume 3 of this epic fantasy.
5.0 out of 5 stars Kat is making more friends
Reviewed in Canada on May 13, 2020
Verified Purchase
So happy Kat has a love interest that is vibrant! I re-read The Arrival and The Healers before I started this and found new clues as to how Kat might get back home. J M Tibbott has really created a believable whole new world. Where does it fit into Kat's own world? Who is this Mouse character?
CornishFan
5.0 out of 5 stars Exciting continuation in the saga
Reviewed in the United Kingdom on June 12, 2020
Verified Purchase
Kat continues to both get herself into trouble and also learn about her new world, as she develops depth and matures emotionally. I especially love the creatures that befriend her in this exotic and exciting place, and enjoy meeting new and very real characters as she travels. I await the next installment with baited breath!
More Reviews
"THE WARRIORS is the latest book of the Pridden Saga; again we see more of a world unfamiliar to Kat, over her shoulder, as she journeys with her companions, making new friends--and enemies. The land of Rifella is full of dangers, some obvious and others lurking and subtle. Not everyone she meets is as they seem in this third chronicle, so mysteries abound and left me hungry for the next book!" -- Ed Greenwood, author of a plethora of fantasy novels, and an award winning Fantasy Game Designer.
"The Warriors, the third installment in J. M. Tibbott's Pridden Saga, is just as well-written, inventive, and exciting as the first two. Tibbott creates a vivid and vibrant world where the hero, Kat, is thrust into one adventure after another. Wonderful storytelling." --  Terry Fallis, two-time winner of the Stephen Leacock Medal for Humour.  
Kat is making more friends
Reviewed in Canada on May 13, 2020