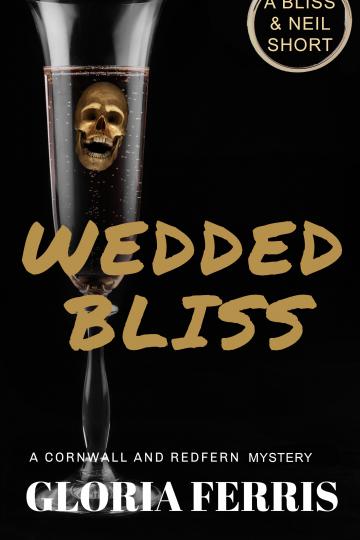 Book 3.5 of the Cornwall & Redfern Mystery series
It's happening, and you're invited!
After three mystery stories crammed with blackmail, poisonings, graveyard theft, arms dealing, gunfights, and more than a few suspicious deaths, Bliss Moonbeam Cornwall and Police Chief Neil Redfern have given up the struggle of denying their love. On this steamy, summer day, they're tying the knot.
Like the preceding novels, WEDDED BLISS provides plenty of laughs, including a drunken cousin, a foul-mouthed parrot, missing underwear, and a suspicious platter of devilled eggs. Not to mention something is off about the shrimp. Since this is Bliss we're talking about, an old cemetery plays a crucial part.
While Bliss is encasing herself in a too-tight wedding gown, Neil is alone in a motel room across town eyeballing his braid-covered dress uniform and wondering if he'll pass out from the heat. Both are minutes away from facing dark echoes of the past that threaten to prevent their happy future.
Readers of the Cornwall & Redfern Mysteries will recognize the guests who gather to ensure the wedding is special for Bliss and Neil. Old friends and old enemies – it's a day Bliss and Neil will never forget. Please join them.
A Short Read Novelette - ebook only
The Cornwall & Redfern Mysteries:
Corpse Flower, Book 1
Shroud of Roses, Book 2
Skull Garden, Book 3
Wedded Bliss, Book 3.5 (Novelette)