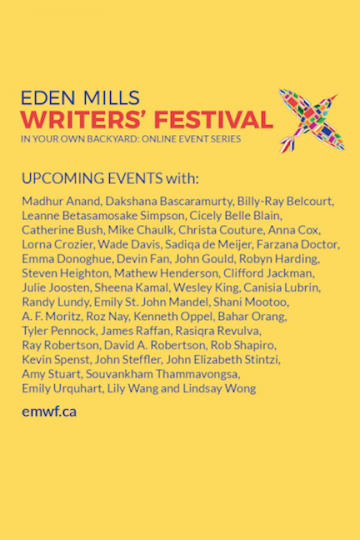 More than sixty writers will participate in the 2020 Eden Mills Writers' Festival, recently reimagined as the "In Your Own Backyard" online event series due to the COVID-19 pandemic. Having kicked off the series in May, the EMWF has events ongoing until October. Programming highlights include book clubs, panel discussions, author showcases, presentations for children and more.
Vocamus Writers Community will once again present a session of Guelph-area authors. Join Clifford Jackman, Mike Chaulk, and Anna Cox as they read from three very different books, from a novel about the politics of a pirate ship, to a collection of sonnets set on a fishing boat in Labrador, to a poignant comedy set in a pencil factory, hosted by Jeremy Luke Hill.
Other local authors featured in the festival this year are Madhur Anand and Eric Walters.
Here are a list of the other sets –
Emma Donoghue joins the EMWF for the second book club in the series, in partnership with Idea Exchange. The Pull of the Stars is a prescient story set in Dublin, 1918, detailing three days in a maternity ward at the height of the Great Flu.
"On Being Alive", a panel discussion featuring Dakshana Bascaramurty, John Gould and Ray Robertson (hosted by Steven W. Beattie, Quill and Quire), investigates whether honest conversations about death could lead us to live happier and more meaningful lives.
Samantha Bailey leads a discussion about strong, complicated, and compelling female characters at the heart of the newest thrillers by best-selling authors Robyn Harding, Roz Nay and Amy Stuart.
The EMWF brings together twelve remarkable voices in poetry for a showcase event in partnership with the League of Canadian Poets, including Cicely Belle Blain, Sadiqa de Meijer, Mathew Henderson, Julie Joosten, Canisia Lubrin, Randy Lundy, A. F. Moritz, Tyler Pennock, Rasiqra Revulva, Kevin Spenst, John Steffler and Lily Wang.
The CBC's Nana aba Duncan is joined by Leanne Betasamosake Simpson, Catherine Bush and Farzana Doctor for a panel discussion that explores how the motivation to write a book is often deeply personal.
Host Laura Trethewey speaks with nonfiction authors Wade Davis, Steven Heighton and James Raffan, as they reveal the research, expeditions, consultation, and documentation behind their compelling new books.
Billy-Ray Belcourt joins Madhur Anand and Bahar Orang in conversation with Laurie D. Graham (Brick Magazine) to introduce their startling new books—memoirs and meditations that defy convention to get to the heart of the stories within.
Susan G. Cole (Now Toronto) leads a panel discussion focusing on the new works of Christa Couture, Lorna Crozier, David A. Robertson, and Emily Urquhart and the critical impact of art in their lives.
Presentations for children include events led by authors Devin Fan, Wesley King and Kenneth Oppel. And YA authors Sheena Kamal, Rob Shapiro and Lindsay Wong join host Eric Walters for a discussion about crafting compelling lead characters.
The EMWF continues to support local and emerging writers with a showcase of Guelph-based authors, and a session dedicated to students from The University of Guelph Creative Writing MFA program, as well as the festival's Read at the Fringe contest winners.
Events are free and accessible via Zoom. Events for adults include closed captioning, and events for children include ASL Interpretation. Details and registration can be found at emwf.ca.
The EMWF is grateful for the financial support provided by The Angel Gabriel Foundation, The Canada Council for the Arts, The Department of Canadian Heritage, League of Canadian Poets, Kitchener Waterloo Community Foundation, The Ontario Arts Council, The Pollock Family Fund and Wellington County.
Media inquiries can be directed to artisticdirector@emwf.ca.