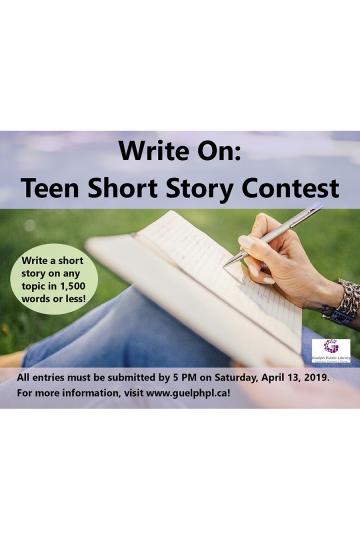 The Guelph Public Library's annual "Write On" Teen Writing Contest and "Cover It Up" Image Contest are now open for submissions until 5:00 PM on Saturday, April 13.
Write a short story on any topic in 1,500 words or less and send it to teens@guelphpl.ca. There are three age categories: Grades 7 and 8, Grades 9 and 10, and Grades 11 and 12. The winners in each category will receive a downtown Guelph gift certificate and have their work published in the ETCH anthology of short stories to be launched and sold in June.
Or put your artistic talents to good use and design a book cover for the ETCH anthology.  The sky's the limit - paintings, drawings, photographs, digital art. The winning cover will be featured on the anthology and will win a downtown Guelph gift certificate.  Submit your entry to teens@guelphpl.ca or in person to any library location.  Grades 7 and up.
If you're a teen, we want your submission. If you're not, please pass the news on to someone who is.