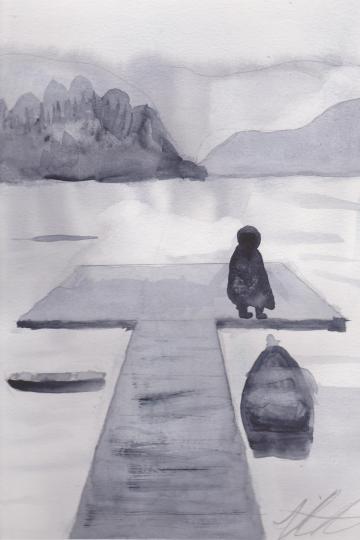 Guelph, ON, June 24, 2020 – The Guelph Public Library, in partnership with Vocamus Writers Community, hosted their annual Teen ETCH Creative Arts Contests with a cover art and short story components this past spring. Both literary organizations are proud to announce the achievements of Guelph's teens in the areas of writing and art. While the celebrations are quite a bit different this year with a dedicated Teen ETCH webpage for everyone to read the winning selections instead of purchasing an anthology, the results and efforts by our Guelph Teens are still outstanding and very creative.
Library CEO Steven Kraft shares, "This year's excellent submissions are proof that our 'new reality' hasn't dampened the enthusiasm teens have for writing. Congratulations to everyone who participated and entered this competition!"
For each of the three grade categories (grades 7 to 8, 9 to 10 and 11 to 12) in the Short Story contest, first place will receive a $50 prize, second place is $25 and third place prize is $20 gift certificates to Downtown Guelph. Two Cover Art Finalists were selected and each will receive a $50 gift certificate to Downtown Guelph. The Library will be in touch with all winning participants to arrange pickup of your prize!
And the winners are…
Cover Art:
Bronwen Lee for "Summer"
Jiansen Zhang for "Untitled"
Grades 7 to 8:
First Place: "Before the Sunrise" by Desmond Bradshaw
Second Place: "Just Around the Bend" by Mirren Litchfield
Third Place: "Twisted" by Jessie Witherspoon
Grades 9 to 10:
First Place: "Him" by Athavi Nishaanthan
Second Place: "Breathe" by Melia Tessel
Third Place: "Chlorine and Other Constants" by Beatrix Aalbers-Davey
Grades 11 to 12:
First Place: "Smokes on the Water" by Catherine McCulloch
Second Place: "Lavender Perfume" by Katie Gaskin
Third Place: "The Surface of the Sun" by Aluki Chupik-Hall
Honourable Mentions:
1. Zechariah Nasir, "Dark"
2. Luka Jamieson, "Here She Lies"
3. Sadie Pattison, "Lights Out"
4. Alex Petrie, "At the Edges"
5. Molly Griesbach, "The Leather Jacket"
6. Maeve Brennagh, "Sand Dollar"
The Guelph Public Library appreciates the continued support of the Vocamus Writers Community for connecting our teen finalists with a local mentor author, who worked with the teens to strengthen their writing skills. A special thank you to Daved Muttart, Marian Thorpe, Linda Kenyon, Montaha Hidefi, Carol Dilworth, Kathryn Edgecombe, Corrie Shoemaker, Phil Andrews and Jennifer Hewitt for dedicating your time and sharing your writing skill sets with Guelph's teens.
Enjoy reading these creative short stories on the library's website and keep exploring the world around you for inspiration!