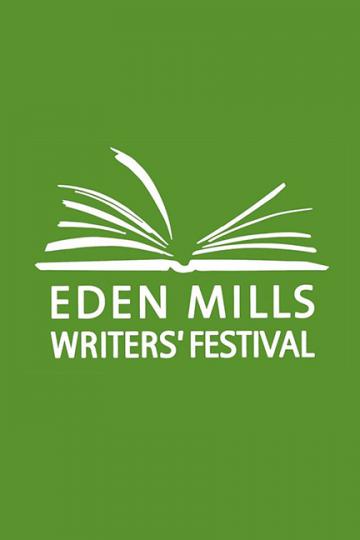 "Every September since 1989, the Eden Mills Writers' Festival has been offering readers a showcase of established and emerging Canadian writing in the village in Eden Mills." – Eden Mills Writers Festival
The 34th Eden Mills Writers Festival took place in Eden Mills (Ontario) on Sunday, September 11th. It was a day of wholesome celebration of the art of writing and the pleasure of reading. In the incomparable scenery offered by Eden Mills, readers and writers, publishers and book enthusiasts gathered together to celebrate this object and its effect on those who value its pen ship as much as its preservation. Books of different formats, genres, and origins came together for a series of events on what marks the return of the Eden Mills Writers Festival after the pandemic.
Writers and publishers as well as audience members were well aware of the privilege of reuniting and made the most out of this great experience.
Designed in a tightly-knitted schedule and idyllic outdoor setting, the chance to meet a new author or reunite with a dear one was just around the corner for everyone who attended.
Divided into six open venues, the festival had offerings for everyone, from children to avid readers, to skilled writers.
Due to the nature and simultaneity of the events, one might attend a few yet it would be impossible to fully attend to each of them.
From the events that I had the opportunity to be part of from beginning to end, I would like to share some of their highlights:
In "The Balancing Act of Nonfiction" I had the great opportunity to discover new authors of a genre that I have recently become more and more interested in: memoir. I was introduced to Elamin Abdelmahmoud, Stephen Dorsey, and Harley Rustad. In this presentation, the raw materials that each of these writers used for their writing were shared with the public in a very transparent, heartfelt and inspiring way. Some of the main subjects dissected by the authors were the global reckoning of the last two years, on being committed to reveal yourself through your writing, how to pitch a book that doesn't really have an ending, the subject of belonging and of spiritual quest, how (as author) being open to being emotional makes books better, the inevitable struggle to share or not to share your book with your family, the commitment to reveal oneself through one's writing, and a wonderful exploration on how to bridge the divides of understanding.
"In Verse" as its title states was an invitation to share and get closer to poetry and the infinite possibilities that it offers when it's read out loud and in front of an audience. Authors had the opportunity to read a selection of their poetry and at the end of the presentation we (the attendees) had a chance to ask questions based on what we heard/ what the authors shared "in verse" during the event. Madhur Anand, Laurie D. Graham, Katherine Lawrence, and Tyler Pennock shared their creative power with us in an intimate manner, surrounded by trees and with the Eramosa river as background. Printed poetry is one thing, when poetry comes to life in the voice of their author, it is simply something else: words vibrate and reverberate in a different frequency, cadence, and flow. Besides reuniting with a couple of my favourite local poets, I also got to know a couple more and to enjoy discovering their craft as it was being read to the audience. Some poetry resembles story telling, some carries a more anecdotal significance, some other stretches over an entire book as a single poem, some (in the words of Tyler Pennock) is like "fog seeking light wanting to be pierced by it."
Besides running into some dear friends and arts and book advocates, my first experience attending this literary festival was wonderful and I am already looking forward to its next edition.
As it's already a tradition, the 2023 Eden Mills Writers Festival will be held in September.