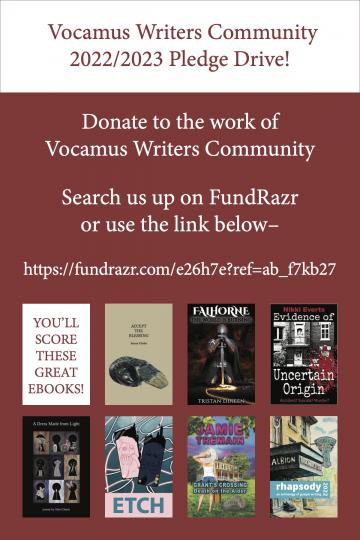 Our annual fundraiser is underway! – https://fundrazr.com/e26h7e?ref=ab_f7kb27
The Goal
Our goal at Vocamus Writers Community is to support the literary community in Wellington County, Ontario. So we provide all kinds of programming, including monthly writers' and groups and hang-outs, annual retreats and workshops, the Book Bash Festival for local books, and personal coaching through the publishing process. And we do all of that for free!
The Challenge
The challenge is that we do all of that for free, and we do need to cover our operational expenses like insurance and the website and so forth. So we're asking our lovely community to contribute as you can. Help us help you!
The Swag
In return, we'll send you some great ebooks by local authors to thank you for your support.
James Clark's Accept the Blessing – A book of poetry on spiritual matters.
Tristan Dineen's Falhorne Book 1 – A dark fantasy novel.
Nikki Everts' Evidence of Uncertain Origin – A mystery novel about two sisters investigating their grandfathers' death..
Sheri Doyle's A Dress Made of Light – A chapbook of poetry about a parent with dementia and Alzheimer's.
Guelph Public Library's ETCH Anthology – The winning short stories from the annual Teen Writing Contest.
Jamie Tremain's Grant's Crossing – Death on the Alder – A Grant's Crossing mystery novel.
Vocamus Writers Community's Rhapsody Anthology – Our annual collection of local poetry and very short fiction.
The Link
You can donate here – https://fundrazr.com/e26h7e?ref=ab_f7kb27 – or search us up on FundRazr.com.