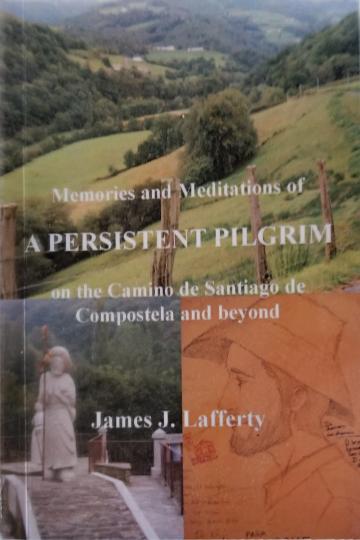 James J. Lafferty, Memories and Meditations of a Persistent Pilgrim on the Camino de Santiago de Compostela and Beyond (Paradise Books, 2020).
Reviewed by Susan Ratcliffe
Whan that Aprille with his shoures soote
The droghte of March hath perced to the roote. . .
Thanne longen folk to goon pilgrimages
And palmeres for to seken straunge strondes,
To ferne halwes, kowthe in sondry londes.
When April with its sweet-smelling showers
 Has pierced the drought of March to the root,
Then folk long to go on pilgrimages,
And pilgrims (long) to seek foreign shores,
 To (go to) distant shrines, known in various lands;
 
"Than longen folk to goon pilgrimages"
Thus spoke Geoffrey Chaucer in 1387 in the opening lines of his Canterbury Tales. James Lafferty echoes this archetypal quest theme in his story of his pilgrimage on the Camino. Its title is almost as long as the pilgrimage, setting the stage for his own pilgrim tales along the Santiago de Compostela. Over the centuries this archetype has played out in much of literature and continues to be a theme today (if only we could travel in these perilous times).
James tells the story of his physical and spiritual journey in matter-of-fact prose and thoughtful poetry. It is both a travel guide and an account of spiritual lessons learned along the way. His idealized picture of what would await him ". . . finish my hiking day around noon: settle to writing in the afternoon. . . or find a quiet place with a pleasant vista for contemplation" proves to be a long way from his actual experience of physical struggles with the difficulty of the terrain, the relentless hot sun, sore feet and agonized toes, a bout of illness and a daily struggle to find a place to stay each night. He recounts the difficult stages with apparent suffering but with an underlying good humour and willingness to learn.
His dark night of the soul in the daytime of his journey does not overwhelm him, however. Overcoming the physical struggles brings him knowledge of himself on his spiritual quest.
Lines from one of the poems show his spirit:
Beyond the ken of our comfort
lies a place which calls,
forth wonder in our hearts.
This book is both a travel journal and a testament to James' learnings in his quest to complete his goal. The collection of poems at the end expand the emotional and spiritual aspects of that quest. At some points, however, his struggles with religion were difficult for a non-Catholic to understand. The story and poems are compelling, but I would have preferred that the illustrations focus more on the scenery and the accommodations rather than on the artwork he encountered. Another minor problem was the book's binding as I had difficulties with some pages coming loose. When I struggled to open the book wide enough to read, it refused to stay open.
The compelling story of one man's spirit overcoming his physical problems is well worth reading. The reader will leave the book understanding why "folk longen to goon pilgrimages.'