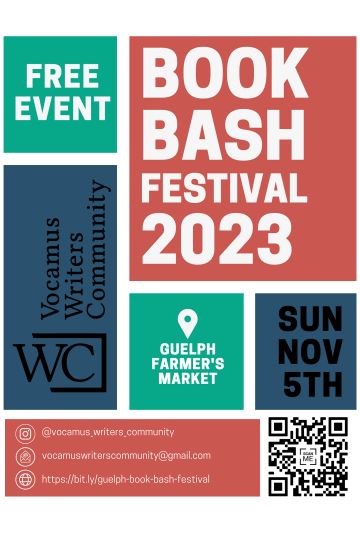 Hey, book lovers, do you know a business that would like to sponsor the 2023 Book Bash Festival on Sunday November 5?
Book Bash is a celebration of recently published books by Wellington County authors. Authors are invited to have a table to sell, promote, and sign their books. There will also be tables from local publishers, libraries, and other literary organizations. There will be food available, storytelling for kids, music, and book giveaways. The event is free, but attendees can donate to Action Read, a local literacy advocate.
We are looking for local businesses that would be willing to support the Book Bash Festival in the amount of $250.
Businesses that sponsor our event in this way will have their brand promoted with the event through online news outlets, the Guelph Public Library, the Bookshelf, downtown Guelph posters, printed promotional materials distributed to approximately 1,000 people, the Book Bash Festival event program, and our own online media. Sponsors are also welcome to have an information table at the event.
If your business would be interested in supporting the Book Bash Festival with your donation, you can contact us at vocamuswriterscommunity@gmail.com.