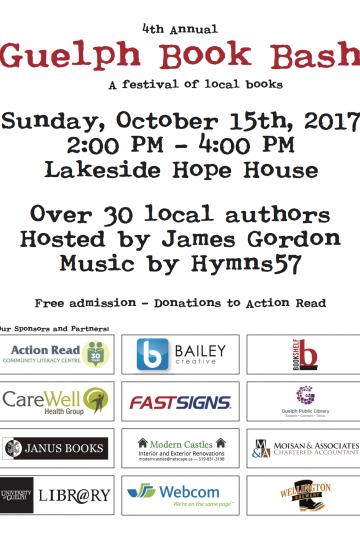 Sun, Oct 15 2017, 2:00 pm - 4:00 pm
The 4th Annual Guelph Book Bash Festival will be held from 2:00 PM to 4:00 PM at Lakeside Hope House (10 Cork Street East) on Sunday, October 15, 2017. The event will be hosted by local musician and community activist James Gordon. Music will be provided by Hymns57. There will be craft beer from Wellington Brewery and food by Osmow's Grill. Admission is free.
The Book Bash Festival is a celebration of books published by Guelph and area authors over the previous year. This year's program will recognize more than forty books, and more than thirty authors will be there to introduce their titles, sell copies, and chat with guests. Guelph's small presses, libraries, bookstores, magazines, and other literary organizations will also be well represented.
The festival is presented by Friends of Vocamus Press, a non-profit community organization that supports book culture in Guelph and the surrounding area, and by Action Read, a charity that builds community literacy.
It's a fun and relaxed afternoon where the community can meet writers in the area, discover some great books being written by their very own neighbours, and pick up their next favourite read. They can also check out Action Read's new offices (located in the same building), mingle with other area book lovers, and maybe win a local book prize.
Check the Facebook event page for news and information.