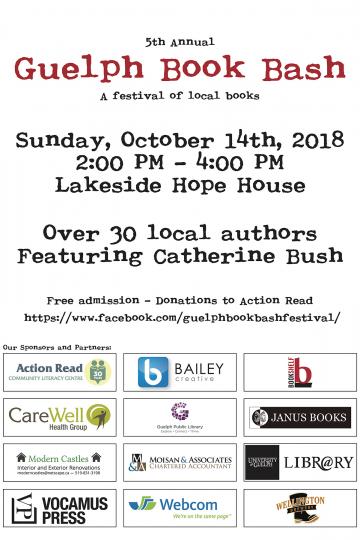 Sun, Oct 14 2018, 2:00 pm - 4:00 pm
The Guelph Book Bash Festival is on Sunday, October 14, 2:00 PM to 4:00 PM at Hope House. It's an annual celebration of the books published by Guelph and area authors over the previous year.
Over thirty authors are usually in attendance to sell their books, mingle with the crowd, and sign copies.
The authors are joined by many of Guelph's micro-presses, bookstores, libraries, cultural groups, and literacy organizations, all the people who help make up our great local book culture.
The Book Bash is also where Vocamus Writers Community launches its annual Rhapsody anthology, a collection of poetry by area authors.
There's food too, and beer. So you can grab a snack, browse the tables, chat up an author, and discover your new favourite book.
There is no cost for the event, but donations are accepted for Action Read, Vocamus Writers Community's charitable partner, which provides literacy programs in the community.
Here are some ways you can be involved:
If you're a Guelph-area author with a recently published book, we'd love to have you on the program.
If you're a local a business who would like to sponsor Book Bash, we have lots of avenues to promote your brand through our own media, external advertising, and the event itself.
If you're looking to volunteer, we can always use help setting up, taking down, welcoming guests, handing out programs, and so forth.
For further information please contact us at info@vocamus.net