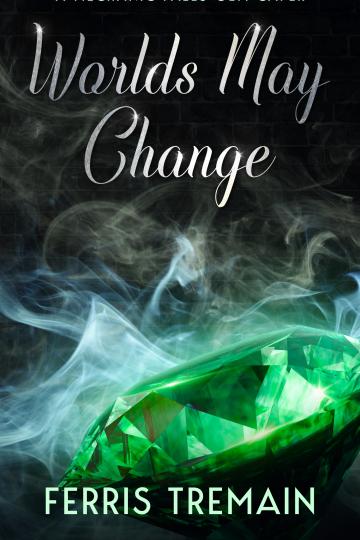 Title
Worlds May Change - A Mechanic Falls Gem Caper (#1)
Worlds May Change is the first book in a new series by Ferris Tremain.  This is a collaborative effort by Jamie Tremain (Liz Lindsay & Pam Blance), and Gloria Ferris. Three authors - one pen name -  Ferris Tremain. We are excited to present the first book in our Mechanic Falls Gem Caper series.
Book Description:
Fired from her job as an exotic dancer, Tori Marsh steals the club owner's shipment of illegal emeralds bound for the black market. Bad move, but regret comes too late. With her death warrant signed, and two hired gunmen tracking her, Tori flees Hamilton and heads north.
Erik Gerard, the enigmatic bartender at the strip club, witnesses Tori's theft and joins the pursuit. While the hunt for Tori and the gems intensifies, he intercepts several attempts on her life but wrestles with an impossible choice – continue to protect her and lose a fortune, or nab the gems and leave Tori to her fate?
When Tori's car breaks down in Mechanic Falls, she calls on her mortuary cosmetologist skills to land a job at a funeral home owned by twin embalmers. The brothers offer her refuge and promise to keep her secret. But, suppose they have their own agenda?
Relying on her wits to survive won't work for Tori this time. Can she trust Erik and the twins? She has to decide now before the men pursuing her, and the ghostly shadow in the casket room, force her back to the streets where she won't last a day.
Can Tori and Erik set aside their mutual suspicions and unite to evade the danger? Will they even live long enough to feel safe again?