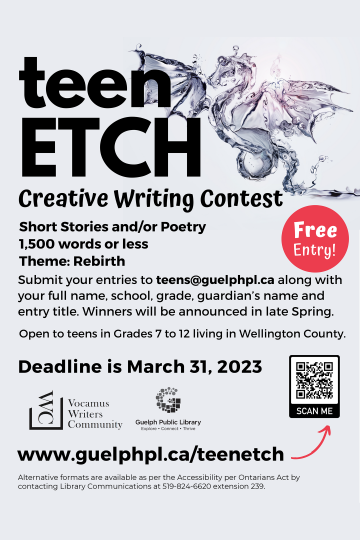 Here's the April 2023 Vocamus Writers Community Newsletter for you to peruse as winter gasps its last sleet storm.
Take note –
We're still looking for a few more mentors for the Teen Writing Contest. It only involves giving feedback on a single story. Please email Maria at mstencam@gmail.com if you're interested.
As always, you can find more information about upcoming events on our Calendar – https://vocamus.net/community/calendar.
Events
Guelph author Nikki Everts is offering a four week series of workshops on Writing Your Life, Tuesday evenings, April 4 to April 25, 7:00 PM to 9:00 PM, in the Heritage Room at 10C. $150. Register at nikki@scripted-images.com.

Vocamus Writers Community's Second Saturday Writers' Hang-out is on April 8, 7:00 PM at Atmosphere Cafe on Carden Street. It's a casual chance to meet with other writers. All are welcome.

The Guelph Guild of Storytellers is at the Guelph Civic Museum on Wednesday April 13, at 7:00 PM with featured stories and a short open mic.

The Bookshelf presents Kathy Friedman in conversation with Leonardo Carranza at the Bookshelf on Thursday April 13, 5:00 PM.

Author Peter Victor will be speaking at Dublin Street United Church on Monday April 17, at 5:00 PM. Details here – https://www.guelphunited.org/speaker.

The Vocamus Writers Community Genre Fiction Group will meet in-person at the University of Guelph on Sunday April 23, 2:00 PM. The group will discuss trigger warnings in books. Email vocamusgenregroup@gmail.com for location.

The Eden Mills Writers' Festival presents Shani Mootoo in conversation with Linda Morra on Wednesday April 26, 7:00 PM EST. Register here – https://edenmillswritersfestival.ca/the-writing-life-shani-mootoo/.

Guelph author Melinda Burns is offering a free workshop on The Practice of Poetry on Thursday, April 27, 7:00 PM to 8:30 PM, at the Main Location of the Guelph Public Library.

Musagetes presents "Big Ideas: Black Vitality—Life, Listening, and The Sugar Shack", with Derrais Carter on Thursday April 27, 7:00 PM, at the Art Gallery of Guelph.

Join the VWC Poetry Group on Saturday April 29, from 2:00 to 3:30 PM. Email vocamuswriterscommunity@gmail.com for the zoom link.

Join us in person for our Last Sunday Writers' Hang-Out for an informal chance to meet and chat with other authors at Planet Bean on Sunday April 30, at 1:00 PM. All are welcome.
News
Vocamus Writers Community is pleased to welcome Peter Szabo. You can check out his profile on our website – https://vocamus.net/authors/peter-szabo.

Local author Gloria Ferris has released Dark Blossoming, the fourth mystery thriller in the Cornwall and Redfern Mysteries – https://vocamus.net/community/publications/humour/dark-blossoming.

We've had a few new releases by local authors since the year began. If you'd like to review one of these titles for our website and the Guelph Arts Council website, email us at vocamuswriterscommunity@gmail.com.

There hasn't been a writers' open mic in the area since Covid shut everything down, and we think it's past time that we restarted one on a monthly basis. If that's something you'd like to see too, and you'd like to be involved in the planning of it, email us at vocamuswriterscommunity@gmail.com.

The Guelph Public Library and Vocamus Writers Community are partnering once again to offer teens in grades 7 through 12 the chance to be published in the Library's 2023 Teen ETCH Anthology this June! You can help mentor one of those teen writers by providing your feedback on their story! Details here – https://vocamus.net/community/blog/help-mentor-teen-writer.

Remember that our members have organizational benefits at 10C, including half price on space rentals. They also have insurance for VWC supported events. Details here – https://vocamus.net/community/blog/our-members-now-have-10c-benefits.

Also remember to send us details about any launches, releases, events, or other bookish news. We love to help promote local book culture!
Let us know if we've missed anything, and we'll post it through our media and in our calendar. If you're planning something for next month, let us know that too, and we'll include it in the next newsletter.
As always, you can support the work of Vocamus Writers Community through our FundRazr site.