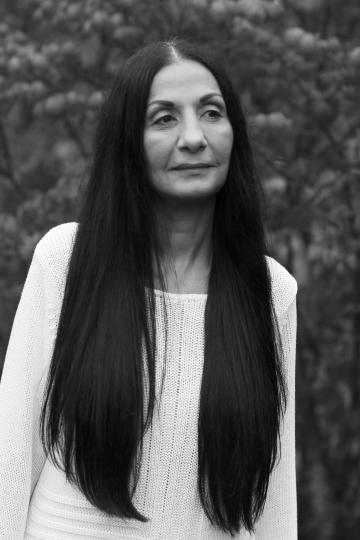 Available for Book Clubs
Available for School Visits
MONTAHA HIDEFI is the author of the #MeToo-inspired memoir Groping for Truth – My Uphill Struggle for Respect. She co-authored Colour Design: Theories and Applications, edited by Janet Best. She is also the author of The Role of Color in Design, an educational module within the American Shop! MaRC Exam Prep Book; a globally recognized credential for retail environments professionals.
Montaha was born in Venezuela to a Syrian immigrant family. She spent her teens in Syria and migrated to Montreal in 1991. She then moved to Dubai in 1997, relocated to the Netherlands in 2008, and transferred to Guelph in 2010, where she currently resides with her husband, composer and piano player Michael Richter. She has been to 57 countries and is fluent in 5 languages: Spanish, English, French, Arabic and Italian.
Since January 2020, Montaha is Vice President for Color Forecasting of the Color Marketing Group, an international association for colour design professionals. Since April 2020, she became a founding member of and Guelph chapter leader of the Canadian Freelance Guild. She has contributed articles related to colour and trends to many trade publications, including the British Polymers Paint Colour Journal (PPCJ), and to the American magazines Powder Coating, Powder Coated Tough, Product Finishing, and Retail Environment.
She remained a permanent panelist for five consecutive years at the leading British trend publication The Mix Magazine and continues to contribute to colour trend panels and colour trend books around the world, including the Trend Colour Book for Al-Jazeera Paints, MoOD Inspirations, and Dutch Design Week trend book, to name a few.
She lectured and presented at international trade shows, conferences and colour seminars including 100% Design London, Warsaw Culture Center, Taiwan Design Center, CoaTech Mexico, the Color Marketing Group, the European Coatings Show in Germany, Expoquimia and Masterbatch in Spain, PlasTactic 4.0 in Sweden, and ChinaCoat.
When not writing, Montaha devotes part of her free time discovering new recipes with colourful ingredients.
LINKS
Montaha's Website
Montaha's LinkedIn
Montaha's Facebook
Montaha's Instagram
Montaha's Twitter
Montaha's Email
BOOKS
Groping for Truth – My Uphill Struggle for Respect (OC Publishing, 2018)
Colour Design: Theories and Applications. Janet Best, editor. (Woodhead Publishing, 2012, 2017.
The Role of Color in Design